[100% Natural Bamboo Organizer]: The kitchen drawer organization is made of 100% natural premium thick bamboo, safety, reusable, sturdy and durable, easy to clean, gently wipe is enough. It is varnished to make the foil storage organizer product durable and your foil holder usable for a long time.
[Plastic Wrap Dispenser with Slide Cutter]: The kitchen foil dispenser with bidirectional and hidden slide cutter provides perfect dispensing and cutting, Also protect your hands from injury during use. You will just need to pull out the wrap from the wrap dispenser, and then, slide the knob on your dispenser to cut it.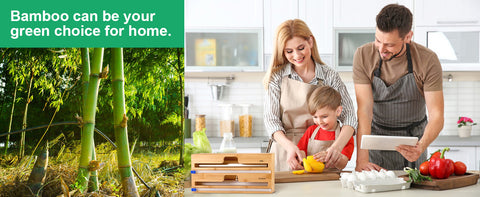 [Compatible with 12" Roll]: The 2 in 1 Kitchen Wrap Dispenser Holder with Cutter with 2 grooves allows you to store aluminum foil, wax paper, plastic wrap and kraft paper at the same time. Compatible with rolls of max 12" plastic wraps or aluminum, making your kitchen neat and organized for your enjoyment. Include label stickers to identify drawer contents instantly with the labels on the box. The size is 13'' x 6'' x 3'', fits less than or equal to 12 inches roll.

[2 in 1 Foil Organizer]: The wrap organizer has 2 slots to help organization and storage plastic wraps in the kitchen. This perfect tin foil organizer for drawer made of bamboo will create better storage and organization for your plastic, aluminum, or parchment paper.

[100% Customer Satisfaction Guarantee]: Each accessory passed 300,000 times load bearing tests, ensuring reliable product performance and durable high quality for customer life using, is built to last. If our ESOW 2 in 1 Kitchen Plastic Wrap Dispenser does not meet your expectations, return it for 100% refund of your purchase price.
ESOW 2 in 1 Plastic Wrap Organizer with Cutter and Labels, Aluminum Foil, Wax Paper and Plastic Wrap Dispenser Holder for Kitchen Drawer, Bamboo Roll Organizer Holder, Compatible with 12" Roll