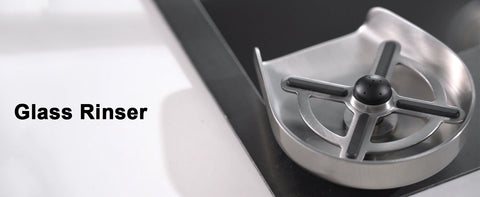 [Premium Material]: The basin part is made of a whole piece of 304 stainless steel by compression molding, and brushed nickel can finish resists water spots and fingerprints. The silicone pad of actuator can reduce the cup crushing risk and prevent slipping during rinsing. Can be matched perfectly with your kitchen style. Also come with all needed quality hardware parts like brass adapter tee and 42" SUS304 braided hose to split COLD/HOT water tap and connect to water supply.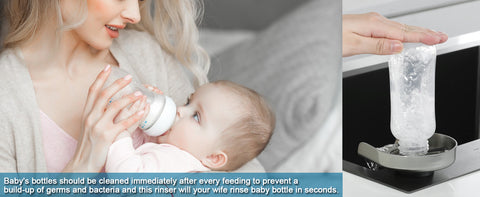 [Full Flushing and Powerful]: 10 powerful water spray holes are regularly distributed throughout the nozzle,that can clean the cup every position. Glass Rinser for sink powerful water jets thoroughly rinse residue in seconds. multi-angle water outlet cleaning head realizes multi-angle spray hole washing and effectively wash your cup, while the subtle overhang directs water flow into the kitchen sink for easy clean-up.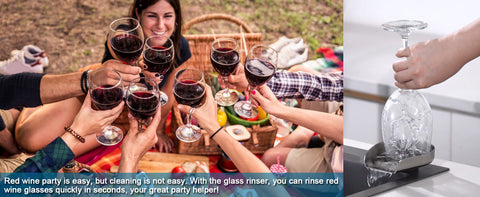 [Cup Rinser Can Wash Almost Any Cup]: From baby bottles to wine glasses to travel cups, it conveniently rinses virtually any drinkware, so you can spend less time soaking and scrubbing. Saving time and effort, convenient and practical. The glass rinser has a wide range of uses and can be used in home kitchens, Bars, coffee shops, restaurant or hotels, etc.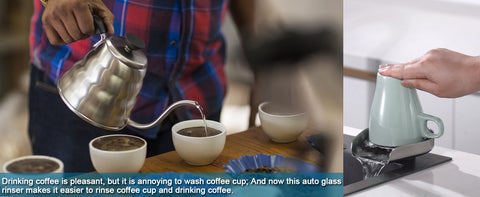 [Simple Installation]: Simple DIY replacement for a soap dispenser, kitchen sprayer or sink hole cover - It is the perfect complement to your kitchen faucet. All installation parts and instructions are included in box, you can install our cup washer by yourself in a few minutes. No plumber required. ( If your sink does not have holes, you will need to punch holes.)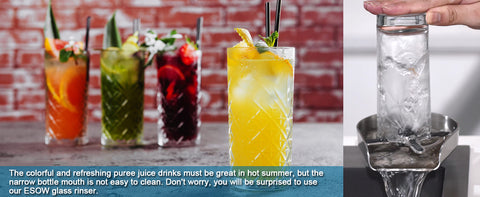 [After-Sales Service]: If there is any problem or you are not satisfied with the product (quality, function, etc), Please feel free to contact us. We will solve the problem for you within 24 hours. We're confident with the quality and function. If does not meet your expectations, return it for 100% refund of your purchase price.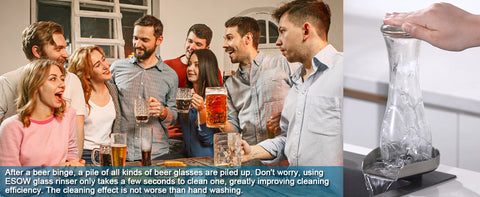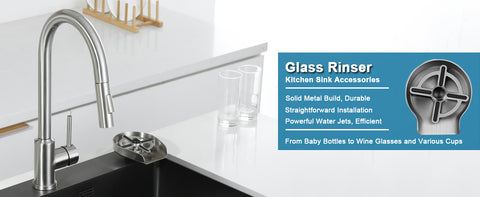 ESOW Metal Faucet Glass Rinser for Kitchen Sinks, Auto Flushing with 10 Powerful Water Spraying Holes, Bottle Washer, Cup Cleaner, Bar Accessories, Stainless Steel 304 Brushed Nickel Finish